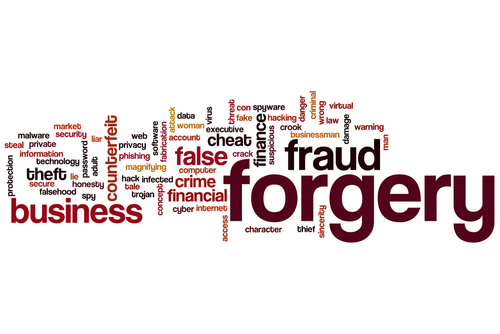 Why are forgery and counterfeit cases at a rise in India?
Why are forgery and counterfeit cases at a rise in India?
Technology has both pros and cons; one side it's helping us redesigns our existing worlds but at the same time it's making us more vulnerable to frauds and forgery. Counterfeiting currency notes, postage and revenue stamps, mark sheets etc have become so common nowadays; they can be forged using sophisticated computers, printers and scanners.
Banks, financial institutions, police verifications, educational institutes and many more such sectors are direct victims of this over-exploitation of technology. We have witnessed cases of fraud from people submitting false documents and getting loan or students forging their grades to get into a better company or college.
Let's have a look and understand what kind of damage s these fraudsters can cause for different sectors:
Banks are the backbone of the economies across the world. Banks accept deposits and give loans based n the documents submitted by their customers. But what if the customer is not honest in disclosing all the material information? Maybe then, the bank doesn't give them loans or accepts deposits for their black money.
India has recently witness bank frauds of over and above 12000 crore in the last fiscal year by the most credible customers; these may be due to forged documents or submitting altered documents as collateral.
"Falsifying documents" is a white collar crime involving altering, changing, or modifying a document for the purpose of deceiving another person. Banks have learned this the hard way and should now take extra care and caution while accepting any documents.
Students submit documents with respective institutions to get admission or to get promoted to the next year. Entire functioning of all the educational institutes like schools and colleges are based on the student database.
Students may submit these documents in physical form or soft copies depending on their requirements. All educational institutes are now aware of the fact that these documents can be forged and falsely represented.
One wrong admission or promotion can tarnish the goodwill of the institution, not only affect the life of the student who has submitted the document but also all others who have submitted genuine documents and didn't get admitted or promoted. This might start a new wave which who institution would ever appreciate. Institutes should be careful while check and accepting documents.
Police verification may be required for passport issuance, on request or for their cases. Police verification gives a complete picture of the person where he lives, what he does for living, his address and identity proof etc.
People sometimes forge documents and submit falsified documents which lead them to face charges and deceive the police and waste their resources.
Police force is now more aware of such fraudsters and is coming up with new technologies to fight and minimize such incidents.
Corporate Background Verification:
Every corporate has certain processes and workflow; background verification is one of the most crucial HR step while hiring a prospective employee. Corporate spent a great amount of their money and resources on their employees this may be training, salary, bonuses , office celebrations , festive celebrations etc.
Employees are the most expensive resource for any company. An employee who joins a company with falsified documents can never become the asset for the company. These employees may deceive the company by submitting false training certificates or work experience letters or lie on their resume.
Corporate should accept the risk and cost coming with these fraud employees and adopt technologies to scan and verify their documents to their best potential.
Since the incorporation of the insurance companies we have seen people taking undue advantage of their claims costing millions and millions to the insurer. In the past, we have seen how people submit forged documents to take advantage of their claims.
Insurance companies have the weakest defence when they fail to identify these false documents costing them a fortune later.
Insurance companies need to take stringent steps towards combating these insurance frauds before they even occur by verifying and cross verifying the documents until certain or their authenticity.
We have discussed in this article how various sectors are affected or could be affected by forged and false documents. We at Contrive Techstar do have a solution for you like never before; where you can identify and screen the falsely forged documents way before they get into the process – PhotoN!
PhotoN is a forensics tool which allows you to detect signs of digital modification in the image. This software can be used in your company in order to reduce risks while making decisions basing on a tempered data.
Check it out here:
http://contrivetechstar.com/PhotoN